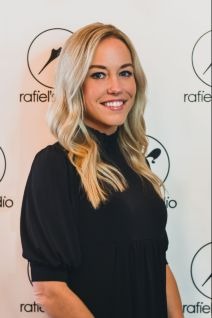 Jesci
Master Stylist
SCHEDULE APPOINTMENT
REFER A FRIEND
Jesci has been a member of the rafiel's studio team since August 2001. She is a graduate of Ohio State School of Cosmetology. She began her career at rafiel's studio as a receptionist and has become one of our master stylists. Jesci excels at men's haircutting and also specializes in women's haircutting. Jesci is the men's haircutting instructor for the salon training program. She has attended national hair shows, Lupe Voss' Color Magic, Van Michael's haircutting class at the Aveda Mid-America Show and Advanced Color Training with David Adams and Carol Many.
In 2014, Jesci also completed hair color classes and haircutting classes taught by Jen Roskey, Jon Reyman, Nathanial Hawkins and Michael Pavlick. Jesci also completed women's hairstyling with Holly Brown.
She is a people person and loves making everyone look & feel beautiful.
MY HOURS
TUE | 10:00 AM - 08:00 PM
WED | 10:00 AM - 08:00 PM
FRI | 10:00 AM - 08:00 PM